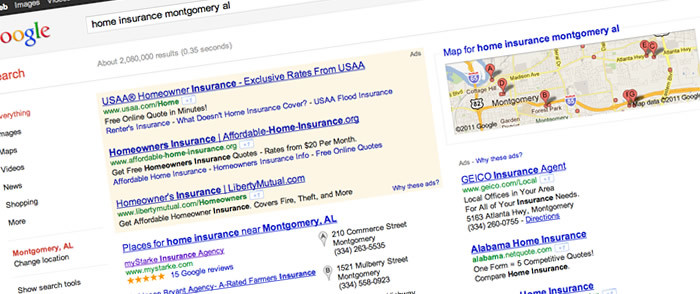 I'm amazed at how many independent insurance agencies haven't claimed their Google Places listing.  These insurance agencies are giving up the potential of reaching hundreds of new clients.
Google Places is particularly beneficial to the independent insurance agency competing for personal lines business.  These potential customers are searching "auto insurance, city state," "car insurance, city state," "life insurance, city state," "home insurance, city state," etc.  Google Places will typically show up first in the organic results when you add a city + state to your keyword.
That's really good news for the independent agent because the national insurance companies (All State, Geico, etc.) do much better on "head term" keywords. Keywords that aren't specific.  Keywords like "auto insurance quote."  On the other hand, it's a level playing field when it comes to "long tail" keywords such as "auto insurance, city state."
Research shows that the more specific the consumer is, the closer he/she is to a purchase.  By the time the potential customer types in "auto insurance, city state," he/she is looking for an agent your town to quote his auto insurance.  Are you going to be the one he calls?
Try typing one of those keywords in Google.  Where do you show up?
No where to be found?  No sweat.  Claiming your Google Places listing is an easy way to be found on the first page of Google.  And even if you don't have a website, you can show up in the Google Place listings.  Although having a website will greatly improve your conversion ratio.
I'll walk you through claiming your Google Places listing:
Start here and create a username. http://www.google.com/places
Put in your Phone Number.  This needs to be your main number, a number you don't plan on changing.  If you change your phone number in the future, you risk losing your reviews and ranking.  And trust me, the last thing you want to do is jeopardize your rank in Google after putting in hours of time optimizing your listing.
Enter your Basic Information.  One major thing to point out here.  Google is looking for what they call "citations" to verify that your business is real. Each time your business is listed on the internet, you need to make sure your business name and address match what you enter here.  The more times other websites and directories have an exact match of your business name and address the higher you will rank in Google Places. These are called "citations."  These citations build credibility with Google.
Fill in the rest of the information.  The more complete your Google Places listing is the better it will rank.  This means, link to your videos if you have a YouTube account.  Upload photos. Enter your hours. Choose categories. Choose payment options. Etc. Etc.
Validate your listing. Google used to let business owners validate their listing by phone, but now, Google only allows validation by post card.   You'll have to wait 2-3 weeks to receive a post card with a pin.  When you do, log back in and enter your pin.
Once your listing is active, the fun part starts.  You need to start optimizing your listing.  That is, you'll need to invest some time to see your listing rise to the top of Google for your select keywords.  There are numerous tricks of the trade and Google is constantly changing how they rank a business, but here a few basic fundamentals:
Send your customers to your Google Places listing to get reviews.  Google knows it's hard to get reviews, so they consider this one of the top credibility factors.  Also having reviews will help your conversion rate.  If you do nothing else, do this.
Make sure your Google Places listing is complete.  Anything missing?  Fill it in.  A complete listing will show Google that your aren't a fake listing. Also, Google knows that people want to see businesses with accurate information.  If you do this, Google will eventually bump you up.
Do a search on your business name to find directories and websites where your business is listed.  Make sure your data on other websites and directories is accurate. Unless there is an exact match of your business name and address, Google won't consider it a citation.
If you do these few things, you'll see your listing rise in the search engines.  Be patient.  It may take a month or so to see results.  But before long, you'll begin to see your listing rise to the top and you'll see more leads.  And you'll wonder, "Why didn't I do this a long time ago?"