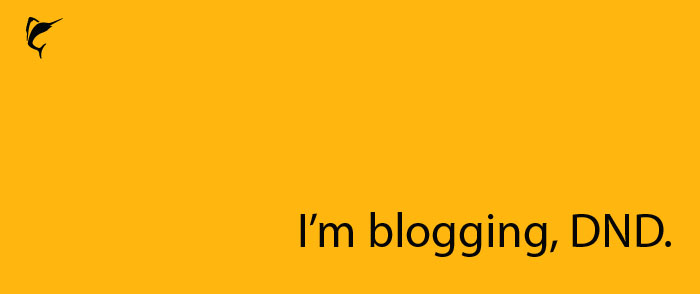 When thinking about website design, most just want a website that looks good.  And you should want this.  This is important.  You only have 5 seconds to make that first impression.
Is this company professional?  Do they have what I need?  Can I trust them?  These are just a few of the questions that run through a potential client's mind.  Design is a make or break issue.
We can agree that design is important.
But blogs don't necessarily add to the appeal of the design, so what's the big deal about blogs? And why should you include a blog on your website? Great questions.
Before I try to persuade you to include a blog on your website, I want to give you a word of caution.  Don't add one without understanding the commitment that comes with blogging.  The worst thing you can do is start a blog, have no understanding of WHY you're blogging in the first place, and stop blogging after five months.  If you and your staff don't have the time or desire to see it through the long haul, don't start. Otherwise, you'll end up with a website that appears outdated and stale.
But for those of you that are considering the time investment and want to develop a strategy to make this work, here are some ways a blog can help your company:
Rise in the search engines.  It's great to have a website that looks beautiful, but who cares if no one ever sees it.  Blogging helps you rise to the top of the search engines. I could go on and on about how this happens, but we'll save that for another blog post.  Just know that blogging helps your website rise to the top, and that translates in more potential customers visiting your website.
Ability to micro target keywords.  When designing a website, it's best if each page is optimized for one keyword.  For example, suppose your keyword is "cherry tomato recipe book."  You can optimize your home page to this keyword, but what if you begin to see a trend for "tomato pie"?  You can quickly write a blog post to target this keyword with a blog post.  And if you're on page one of the search engines for this keyword, you'll get more potential customers visiting your website.
Create freshness.  Potential customers don't want to visit a website that is never updated.  An easy way to show that your website is still current is to feature your most recent blog posts on your home page.  And since the search engines know that people prefer an updated website, updating your website (blogging) tends to help you rise in the search engines. (Hint: This is one of the numerous reasons blogging helps you rise to the top of the search engines. See #1.)
Show your expertise and passion.  You have the ability to show your potential customers that you're an expert and that you're passionate about your product/service.  Do you think more highly of a person who tells you they are an expert (arrogant) or when you find out yourself (humble)?  Of course, you would rather discover for yourself that they are an expert. Blogging is an easy way for someone to see/experience your expertise.
Is blogging right for everyone?  Of course not.  However, for those that choose to add a blog to their website, you're website can end up being your best sales generator. But before you start, you just need to make sure you understand the time commitment and benefits. Weigh out the pros and cons.  Take a deep breath.  Then go for it.
It's not a good fit for every business, but it may be for yours.